Around the Branches
Please send in your news for others to share!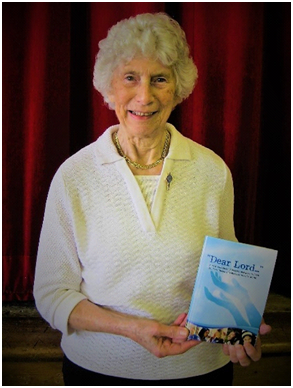 Pictured here, Margaret Devlin from Holy Saviour Tynemouth M.U. holding a copy of "Dear Lord" the new collection of prayers and poems written by Mothers` Union members across the world. Over 400 entries were received among which were prayers submitted by Margaret and five of these are included in this delightful and attractive publication.
Congratulations from everyone in the Newcastle Diocese Margaret, well done and thank you
Sylvia Hickey V.P.
A New Mothers' Union Member
Reverend Matthew Hunter, Associate priest at Hexham Abbey was admitted as a member of the Mothers' Union by June Olliver, Branch Leader, at the morning Service of Eucharist at Hexham Abbey on 15th February.
Matthew is the Chaplin to the Hexham Abbey MU Branch and is a very good friend to the Mothers' Union at Branch, Deanery and Diocesan level. Last year he helped with the organisation of the Lindisfarne Archdeaconry Festival Service in the Abbey and presided at the Service.
As it was Matthew's birthday, we later celebrated with Coffee and Chocolate cake.
We are very pleased to welcome Matthew as a member of the Mothers' Union.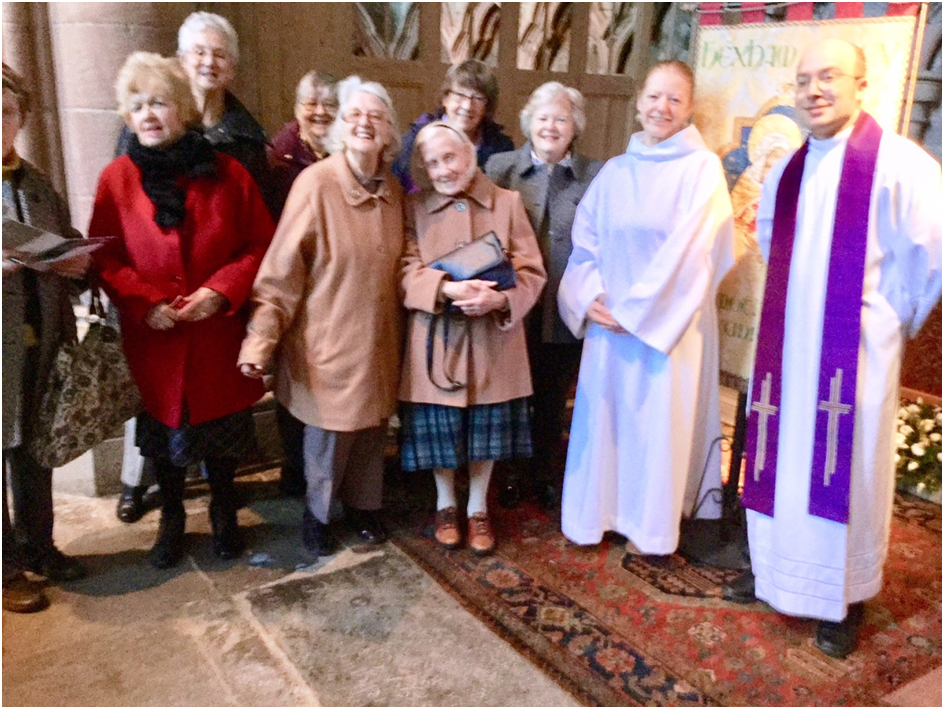 St John's Whorlton recently celebrated 120 years of Mothers' Union in the parish, a memorable occasion for all! The celebrant was Revd Canon Lyn Jamieson, Chaplain to the Metro Centre and MU member. The two Diocesan Vice Presidents, Sylvia and Sheila, were there as were fellow members from the deanery and friends from the Methodist church - Diocesan President Barbara was unfortunately away on MU business.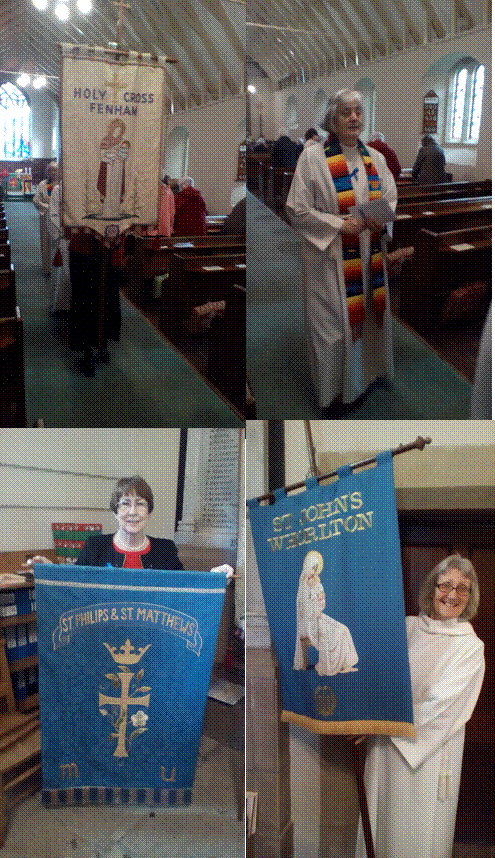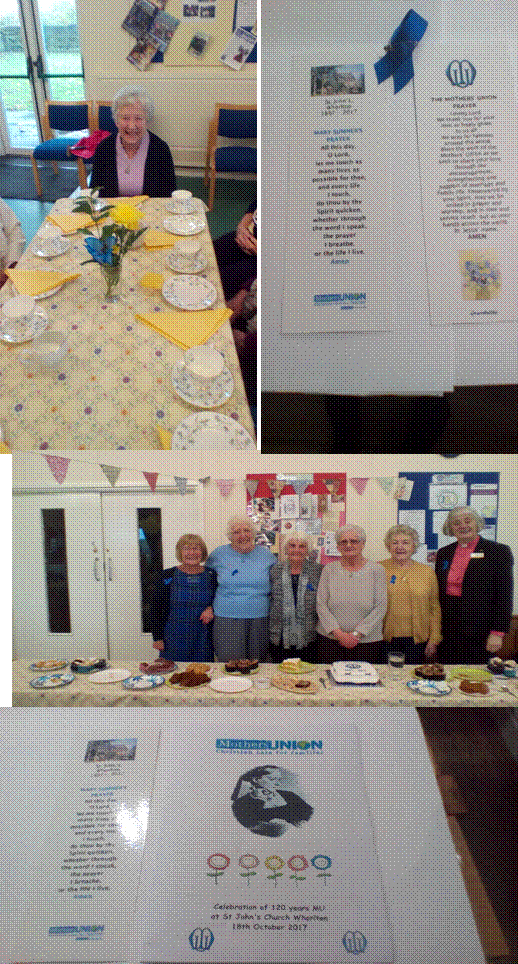 Diocesan Eucharist, St George`s Cullercoats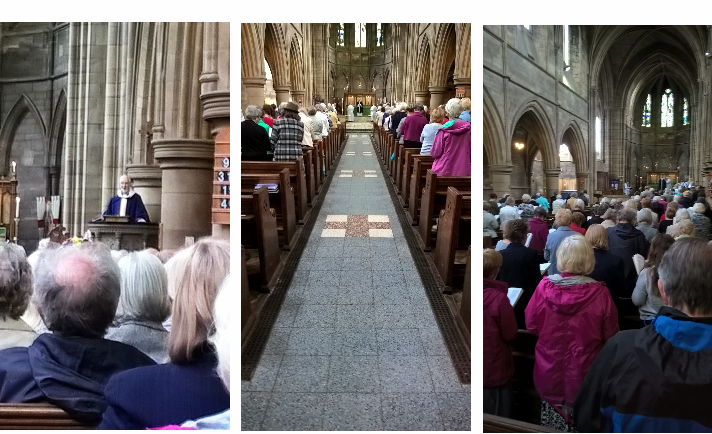 Our first Diocesan Eucharist took place on Saturday 15th July, it was very well supported by members from across the Diocese and so I am happy to say that I think we can now make this an annual event.
It was good to have time and space to give the service the importance it deserves. The Celebrant Father Adrian Hughes gave us much to think about with his sermon, challenging us to remember Mary Sumner`s drive, enthusiasm and vision. Her mission then should still be our mission today.
The singing was led by our newly re-formed choir and we were able to use our M.U. robes and communion vessels, all this helped to make it a memorable event.
Sylvia Hickey. V.P.
Three Little Maids from M.U. are We!
When three M.U. members all found themselves on the same Norwegian Fiord Cruise last June, and being loyal servants of our M.U. Patron Her Majesty the Queen, they could not resist the chance to advertise Mothers` Union. For British night, duly dressed in patriotic attire, with Mothers` Union written boldly on the Union Flag, they posed for photos, while fellow cruisers looked on with some surprise (and hopefully some interest)!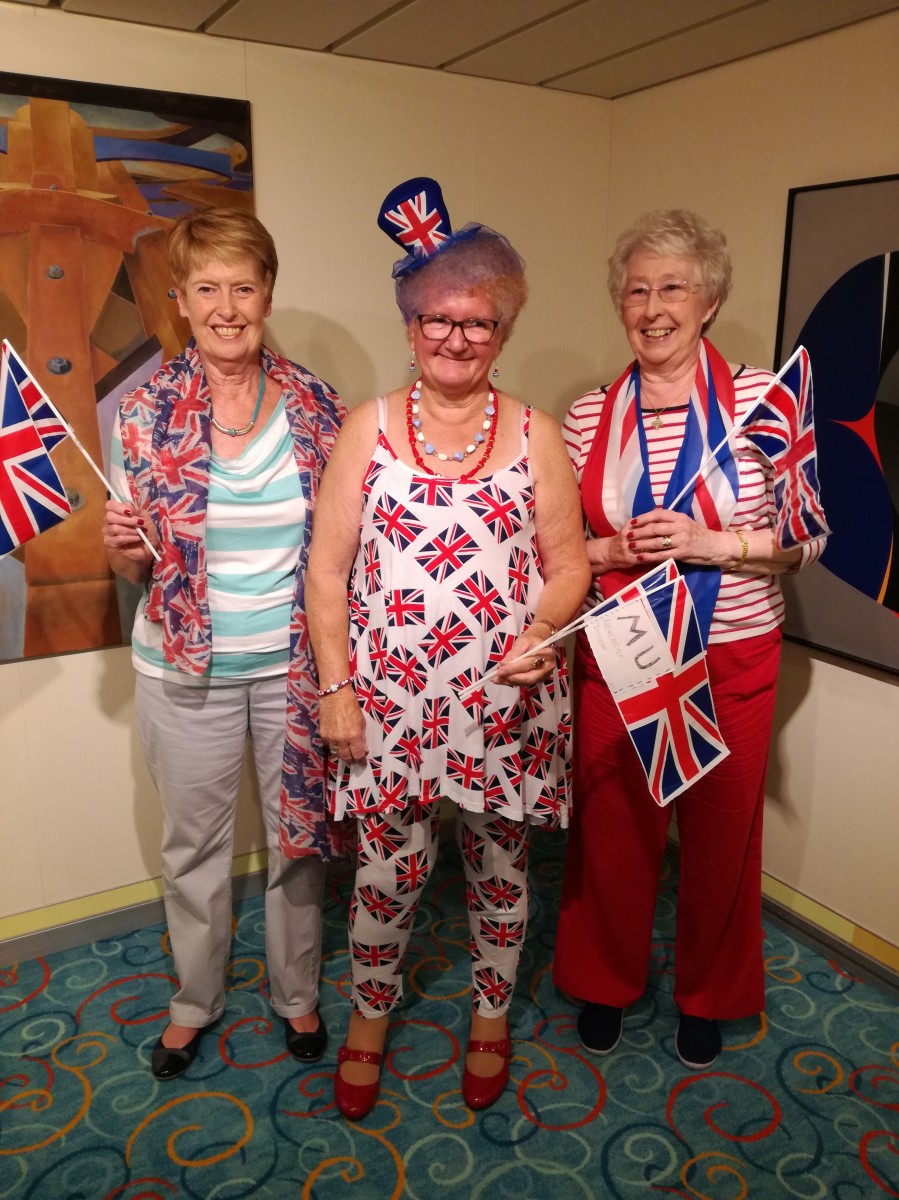 Pictured here, in the centre, Margaret Crawford our AFIA rep. Sylvia Hickey Northumberland Archdeaconry V.P. on the right and Dorothy Walker, West Deanery Treasurer on the left. Please note however that, despite the presence of our "AFIA lady", this was not an AFIA holiday or even an AFIA Away Day!
Sylvia Hickey
Visit to a Buddhist Monastery
In July Ponteland Mothers` Union branch visited the Buddhist Monastery near Belsay in Northumberland. Some husbands plus interested Church members made a party of 20 who were met by Buddhist monk Punnyo who was to be our guide.
We sat on chairs at the back of their Temple facing the "altar", a simple table with candles and behind it the Buddha, sitting in the pose we most easily recognise. The main area in front of this was empty as the monks sit or kneel for their meditations but there were markers, some covered in gold leaf, encircling this area which is where ordinations take place.
Punnyo took us through a typical day, the 5am bell wakes them, meditation begins the day followed by breakfast. The morning consists of work interspersed by meditation with the main meal being taken at 11.30am.
Buddhist monks do not handle money and depend entirely on alms to survive (produce not money), I was embarrassed to realise that, due to our lack of knowledge, we had come empty-handed. However we could put this right after the visit.
Put very simply Buddhist meditation differs from ours in both execution and understanding. They concentrate thought entirely on the body, working towards a complete awareness of the mind and the inner being, leading to a state of calm acceptance.
Our visit proved fascinating and extremely interesting: I feel that gaining knowledge of other beliefs is vital to promote greater understanding and tolerance.
Sylvia Hickey
West meets East at a Mothers` Union Meeting
in February, members of the Ponteland Mothers' Union welcomed guest speakers Martin and Siti Hill. Siti had been brought up as a Muslim in Singapore (where, Siti told us, 70% of the population are Christian). She recounted some of the features of life in the Middle East, which she and her husband have travelled quite extensively, as Martin works in the construction industry.
Dubai, we were told, is very cosmopolitan and there is much freedom of expression; there are some Christian churches. In the seven Gulf States there are many European families, both of the British personnel and also the staff of oil and construction companies there are, therefore, Christian churches also in these States, whereas only 15% of the indigenous population in the United Arab Emirates are Christian.
Where it is not politic to advertise your Christian faith and where, therefore, there are no places of worship, services are sometimes organised within British Embassies to accommodate our citizens.
Siti told us that the dress code for women in Dubai is very 'open', and there are also licensed areas where alcoholic drinks may be bought and consumed, but there is a limit to the amount that women can spend on alcohol – and even then they have to have their husband's permission (or that of another male family member) to do so. Martin and Siti enjoyed living in Dubai, which is very beautiful, and where the pro-British Sheikh is extremely popular, so they had quite a culture shock when they moved to Doha. Life there, they told us, is much more strictly controlled, and no alcohol can be brought into the country. Rules in Saudi were even stricter, with women not being allowed to work or to drive. In the Arab States in general women need male permission for many of the everyday tasks that women in the west would carry out as a matter of course.
After Siti had treated us to some delicious stuffed dates, she generously allowed us to try on some of her Eastern garments, which were of lightweight black fabrics adorned with gorgeous silver and gold swirling embroidery. This gave us some experience of a Muslim woman`s dress code.
Siti and Martin were only in this country for a short stay (Martin`s family live in Ponteland). They are shortly returning to the Middle East, again to Doha. Ponteland M.U. will stay in contact with them by e-mail and on their return in about 2 years' time, Siti will hopefully, become a M.U. member.
What attracted Siti to Mothers` Union – it was our focus on prayer and worship, as the foundation of what we are and all we do. Sylvia Hickey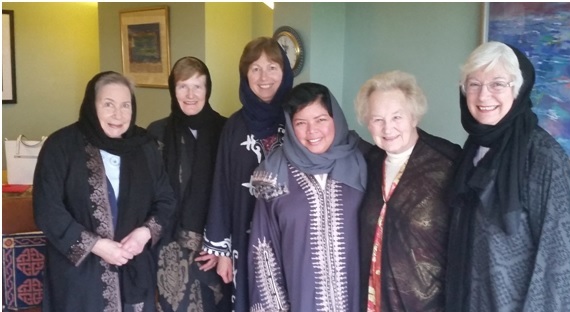 And the first to contribute .....................................
Ponteland Branch
A Mothers` Union Branch for Ponteland was officially opened on Monday 24th February 2014 and the new group has been very successful. It is approx. 50 years since the last branch was closed
This branch reflects the Mothers` Union operating in the 21st century. Our hallmark is "flexibility" as we need to accommodate the wide ranging ages and commitments of our members. Our monthly meeting day and time vary from month to month, sometimes having an in-house meeting sometimes going out to experience the faith and work of others
Our branch aims to be of value to our local Churches, our community in Ponteland and also in the work the organisation does both nationally and internationally.
For further details contact, Branch Leader, Sylvia Hickey, Tele: 0191 236 6450. e-mail: billandsylviahickey@btinternet.com